BOND SCHOOL OF SELF DEFENSE Branch of Varasconi's Division of Hamzy's
WE ARE THE BEST IN MARTIAL ARTS COMBINED FOR PRACTICE SELF DEFENSE AND FITNESS
Welcome to...
BOND SCHOOL OF SELF DEFENSE
Branch of Varasconi's and & Division Of Hamzy's Schools
Class Hours
> Monday & Wednesday 6PM-8PM
> Private Lessons are Available
Classes Held
> Located in the Fitness Fury Studio (Maps)
We are a martial arts school dedicated to the empowerment of our students. We are NOT profit driven. Our students discover the benifits of reality training, that will help them defend themselves. We also promote a healthy lifestyle,and fitness regiment. We do not train for cage fighting. We train for the street.
Learn more about our style at our Ketsu-Ka page.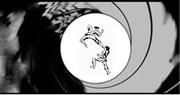 * LOW MONTHLY RATES

* FAMILY RATES

* NO CONTRACTS

* NO BELT TESTING FEES
WE ARE AVAILABLE FOR DEMONSTRATIONS, SEMINARS, SPECIALTY CLASSES, & MOTIVATIONAL SEMINARS.